Meet the staff at Craigiehall Nursery.
Posted on
We thought you might like to meet our staff. Eagle-eyed readers will be clicking back to re-read our About Us page - didn't they say they did all the work themselves? Well, some jobs just can't be done properly by a human.
Meet Kiki,
Main duties - night-time security and rodent pest control. Kiki came to us as a stray. She was homeless and rough sleeping in the freezing temperatures of December a couple of years ago and was looking for work, so we took her on. Two and a half years later and we would be lost without her.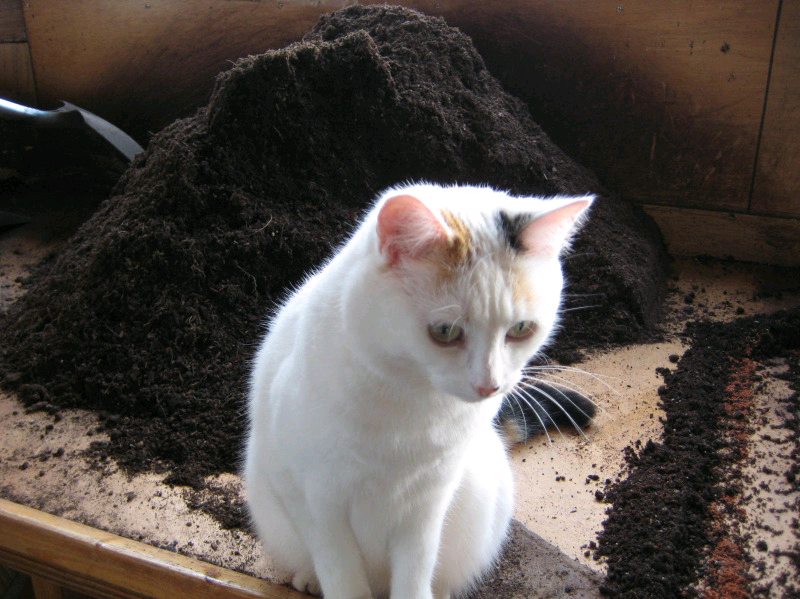 [ edit, Sept 2015]

I have some awful news. Our beloved Kiki died recently. Actually, she was killed or at least died of fright. Nicola called me one evening, distraught that a fox had attacked our hens in the garden. I rushed down from the nursery and saw what looked like a white polythene bag lying beneath our car on the driveway - it was poor Kiki, already dead. There were signs of a scuffle on the gravel beside the car by not a mark on Kiki. She was the happiest, most contented cat we have ever had, always pleased to see us home. Given her unknown background and what she was like when she arrived here, she took to us and home life immediately, and us to her of course. Even writing this a few months later, I can hardly believe it. Poor Kiki, but other than her last few seconds of life, her time here was happy.
Main duties? Nell is only 13 weeks old (pictured here at 11 weeks) and we have still to find a role for her. For now, her only task seems be preventing us from working too quickly. She gets her nose into everything and because she is so small, her body can follow. Let us just say - the nursery has been reorganised somewhat.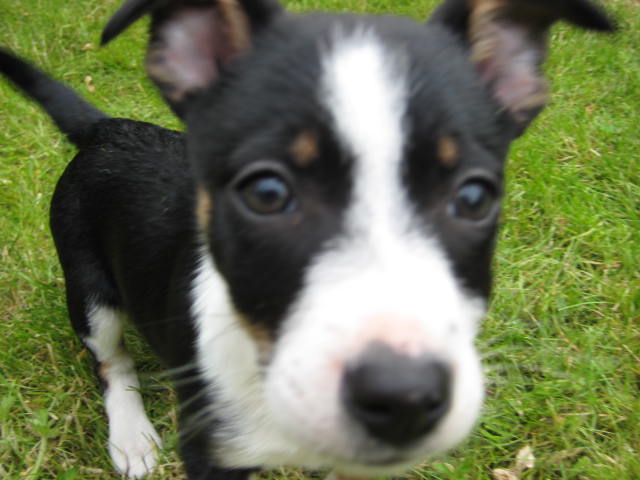 Little Nell was one of natures' 'happy accidents' - mum is a small Jack Russell Terrier and dad a working sheepdog - a Border Collie. She seems at this stage to be a bit of both; part terrier, part collie. And she really does have the 'cute puppy' factor. Coming from two working parents, she is probably very intelligent. She already knows some words - walkies, biscuits and bed - all the essentials! As soon as she learns, 'Don't eat the plants!' we will find a proper role for her.
[edit Sept 2015] Nothing wrong with Nell! She is a constant source of entertainment, sometimes even when she is sleeping! Despite her undoubted intelligence, we still haven't found a useful role for Nell, but she keeps us amused and is a relaxing distraction when we're working hard. She spends as much time on the nursery as we do and is always boisterously eager to get up there in the mornings - just like me! Eh??!